The Washington Scholarship Fund is a non-profit organization, run by a volunteer board.
Officers
Steven T. Cornell, President
Christina Cornell Ruel, Vice President
Anthony Amato, Treasurer
Susan Payne, Secretary
Directors
Jessica Alex
Linda Allard
Christian Anderson
Hugh Frater
Deborah Glass
Ashley Goodale
Judie Gorra
Shannon Kozak
Kiersten Marich
Linda McGarr
Matthew Muszala
Susan Nicholas
Ray Reich
Tyler J. Smith
David Werkhoven
Darryl Wright
Emeritus Directors
Michael Condon
Nelly Condon
Scholarship Award Committee
Sheila M. Anson
Mary Anne Greene
Laura Martin
Susan Nicholas
Donald R. Schels
Samantha Steinis
David Werkhoven
Development Associate
Millie Johnson
On November 19, 2022 The Frederick Gunn School recognized the achievements and contributions of the Washington Scholarship Fund, bestowing the Friend of the Green Award on the organization. Established in 2010, this award is presented annually by the school to honor an individual or group that has contributed to the well-being of the town of Washington through their volunteer efforts. Steven Cornell, President of the Washington Scholarship Fund, states that "The Washington Scholarship Fund has been quietly transforming lives by providing vital financial support to local students who aspire to continue their education by attending college." The non-profit organization is run by a volunteer board and has granted more than $4 million in scholarships to more than 700 local students for over a half century. As Steven Cornell explains, "The awards are given to recipients based on financial need and the Washington Scholarship Fund relies on the generous support of the community to allow deserving students to pursue the next chapter in their life. We are very grateful to be recognized with this year's Friend of the Green Award."
---
Over the years, when we operated as the Washington Citizens' Scholarship Foundation, we printed collectible cards to say "thank you" to our donors. Here's a look back…
"Carl Bader's Market" by Kevin Locke
One of our scholarship recipients drew this from the photograph in An American Village by William C. Bader. The photo, circa 1900, shows the market which stood behind where the Washington Food Market stands today.
"Romford Railroad Staion" by Todd Peterson
Romford Station was on the Shepaug Railroad between New Preston Station (formerly on Bee Brook Road south of the new Fire Station) and the stop at Smokey Hollow, called the Morris Station. Mr. Peterson's resources for this drawing were the Gunn Memorial Library and Historical Museum and The Shepaug Railroad by Fletcher Cooper.
"The Stone Church, New Preston Hill" by Marie Camp
This lovely drawing of the 1824 Hill Church, First Ecclesiastical Society of New Preston, on The Common on New Preston Hill, is by South Kent artist, Marie N. Camp. Services are held here in July and August. Marie used a photo from the booklet, "Guide to New Milford and its Environs, including Washington, Roxbury, Bridgewater, Kent, Sherman, Warren" compiled by A.C. Worley, Editor of the New Milford Times and published in 1928 by the Times Print Shop, New Milford.
"Washington Depot Station, circa 1895" by Mel Crawford
Well-known local artist Mel Crawford rendered a train steaming into The Depot Station. The Shepaug Railroad operated 32 miles between Hawleyville and Litchfield from 1872 to 1948. Today you can walk some of the railroad bed and pass through the Tunnel in the Steep Rock Reservation and Hidden Valley Preserve. The Depot Station, which stood where the Post Office and banks are today, was moved across Canoe Brook and is now used as the Veterans' Memorial Hall. There is a mural of the Depot Station in Litchfield Bancorp.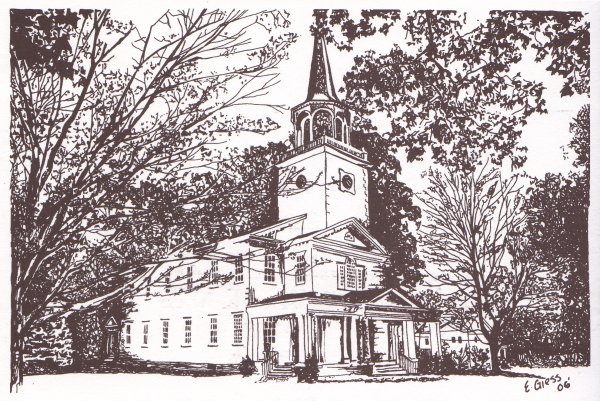 "The Meeting House, 1801" by Emily Giess
Emily Giess was an SVHS senior when she drew The Meeting House of the First Congregational Church on the Green in Washington. In 1742, this territory was incorporated and named "Judea". A log shed, the first Meeting House in Judea, was raised in 1742. The second Meeting House was built in 1754 and destroyed by fire in 1800. The first service in this the third Meeting House was held on Thanksgiving Day, 1801. This Meeting House continues with an active parish and serves as a meeting house for many local events and programs.
"Our Lady of Perpetual Help Church" by Kelly Heslin
This beautiful illustration of one of our Town's landmarks on Green Hill was created by (then) Shepaug Valley High School senior, Kelly Heslin. By 1889 Washington's Catholic parish began construction on a modest church, and on September 21, 1890, Our Lady of Perpetual Help was dedicated. With expansion in mind, Father John F. Callahan purchased 18 acres for a future church site and the new church, of Norman architecture, opened on March 17, 1940.
"The Harry O. Erickson Pavilion Hall, New Preston" by Jessica Olsen
Built in 1897, this landmark is named for the beloved community volunteer, Harry O.Erickson. At one time it was the post office and a fire engine was kept behind the double doors in front. It has hosted concerts, plays and celebrations, and today serves as the Boys and Girls Club of New Preston and is available for meetings and events as well as yoga classes. Jessica Olsen, then an SVHS senior, created our 7th Collectible Card.
"The Gunn Memorial Library" by Lindsay Walsh
Designed by Ehrick Rossiter, this distinguished landmark on the Washington Green opened in 1908 on land donated by E.H. Van Ingen. It is named for Frederick W. Gunn, founder of the Gunnery School, educator and abolitionist, who was the first president of the Washington Library Association formed in 1852. One notable feature of the original building is the gilt-accented ceiling mural by H. Siddons Mowbray, unveiled in 1914. In 1994 a 7,500 square foot addition was completed. Lindsay Walsh, then an SVHS senior, created this image.
"Ducks on Lake Waramaug" by Ian Bowman
Lake Waramaug is a Connecticut Heritage Lake and the second largest natural lake in the state. It is enjoyed by those on foot, bike or in a car with its scenic seven-mile route at the water's edge. Waramaug means "place of good fishing". Many enjoy year-round fishing as well as seasonal canoeing, kayaking, sailing and the occasional regatta. Public access is available at the Lake Waramaug State Park on the western shore as well as the Washington Town Beach on the eastern shore. Ian Bowman, then a Shepaug Valley High School sophmore, drew this picture.
"Bryan Memorial Town Hall" by Ian Bowman
As a junior at SVHS, Ian Bowman created our 10th Collector Card. Bryan Memorial Town Hall is named for Gregory Seeley Bryan, who was born and raised in Washington, Mr. Bryan went on to become a successful businessman while maintaining roots to Washington. He established a trust to purchase land and build the town hall. The Bryan memorial Town Hall was dedicated in 1932, and it sits in the heart of Washington Depot.
"First Congregational Church on the Green" by Ian Bowman
Since 1741 the First Congegational Church on the Green has been a gathering place for the community. The current Meeting House held its first service on Thanksgiving Day in 1801 and has continued to be a focal point of the Washington Green, hosting Sunday services as well as concerts, historical presentations and many more community events. Shepaug High School senior Ian Bowman created this, our 11th Collector Card.